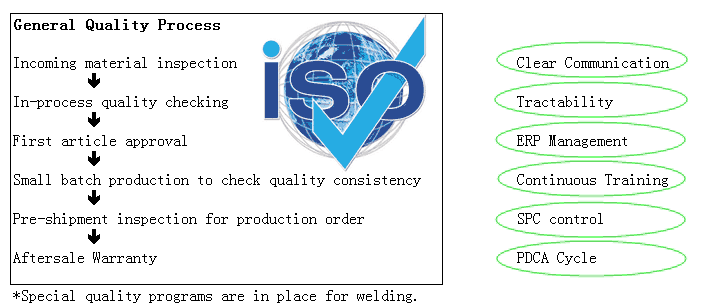 Common tests include:
Material chemical composition, tensile/compression strength, surface hardness
Galvanizing, power coating thickness. Or Salt spray test for corrosion
Dye penetrate or ultrasound test for welding quality
We also regularly use authoritative, 3rd-party labs for testing.



Quality Goal:
For new product or parts, one-time pass rate should be 90% at least.
For mature products, yield rate should be greater than 98%. Zero defective product should leave the factory.
Timely delivery of products should be 95%
Stick to continuous improvement for satisfaction of customers should be 95% at least.



Quality Tips For Customers
* Communicate clearly your requirements

Let us know the critical dimensions/specs so that we can prioritize accordingly

Let us know usage of the product/ parts if it is not business secret. This might affect manufacturing processes and quality checking measures.

If applicable, please let us know how you check for quality.

Carefully check for sample qualities before having us do mass production.

Use formal Engineering Change Management procedures

* Our Quality Guarantee Policy

We take full responsibility for product quality.

First of all, we will do everything we can to only ship quality products to customers.

If a quality issues is identified, we with either replace them or fully refund the customer.

We have passed ISO 9000 certifications. Certificate is available upon requests.
We also welcome customers to come and audit our productions and give suggestions for improvements.
We also offer stand alone services to audit factories for you. Click here to learn more.