Combine Shipping from Mutiliple Factories
We can collect products from your suppliers in China (Shanghai, Yiwu, Shenzhen, Guangzhou...) and ship to your door or your FBA warehouse.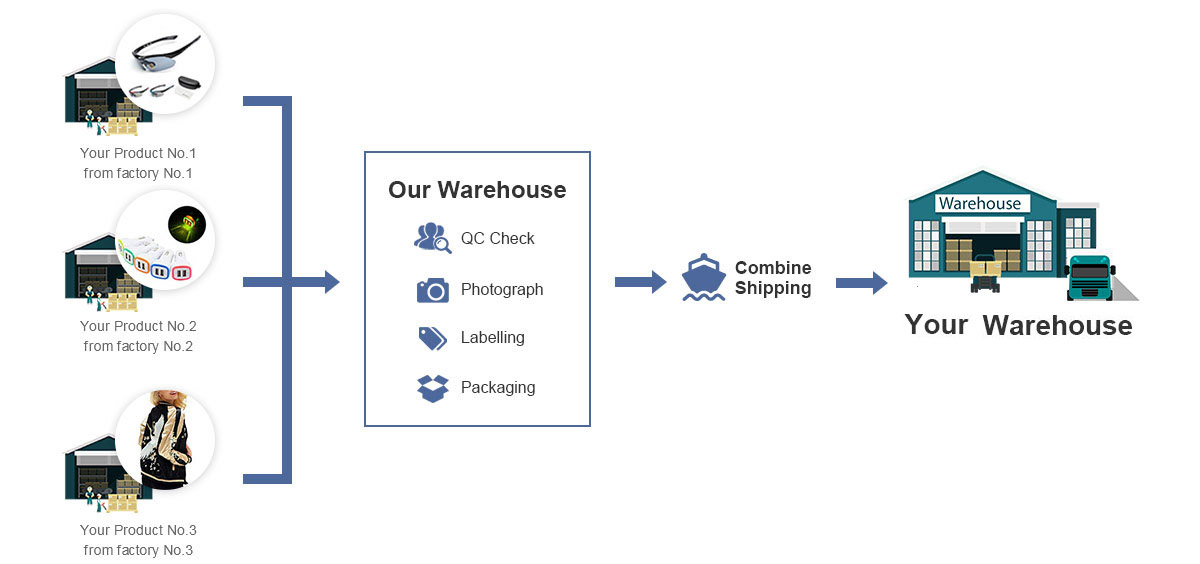 * Benefit: 1.Save big on internatioanl shipping cost; 2.Value-add services such as quality control
Rates: Ocean / Air Shipping
Departure PortDestination Port

You will be directed to ChinaSeaAir.com (a shipping website owned by us)
We support shipping to FBA warehouses. Here's the fee associated with it.
Express Shipping
Route
Time
Price
China - USA
5-9 Day Lead Time
10 USD for the first 0.5KG, and 3.2 USD for each 0.5KG after
China - UK
5-9 Day Lead Time
10 USD for the first 0.5KG, and 3.2 USD for each 0.6KG after
China - Australia
5-9 Day Lead Time
10 USD for the first 0.5KG, and 2.9 USD for each 0.7KG after
China - Germany
5-9 Day Lead Time
12 USD for the first 0.5KG, and 3.5 USD for each 0.8KG after
China - Canada
5-9 Day Lead Time
16 USD for the first 0.5KG, and 3.7 USD for each 0.9KG after
China - France
5-9 Day Lead Time
14 USD for the first 0.5KG, and 3.5 USD for each 0.10KG after
China - South Africa
5-9 Day Lead Time
13 USD for the first 0.5KG, and 5.6 USD for each 0.11KG after
China - Brazil
5-9 Day Lead Time
25 USD for the first 0.5KG, and 5.6 USD for each 0.12KG after
* We have great rates to ship to many other countries, contact us for more